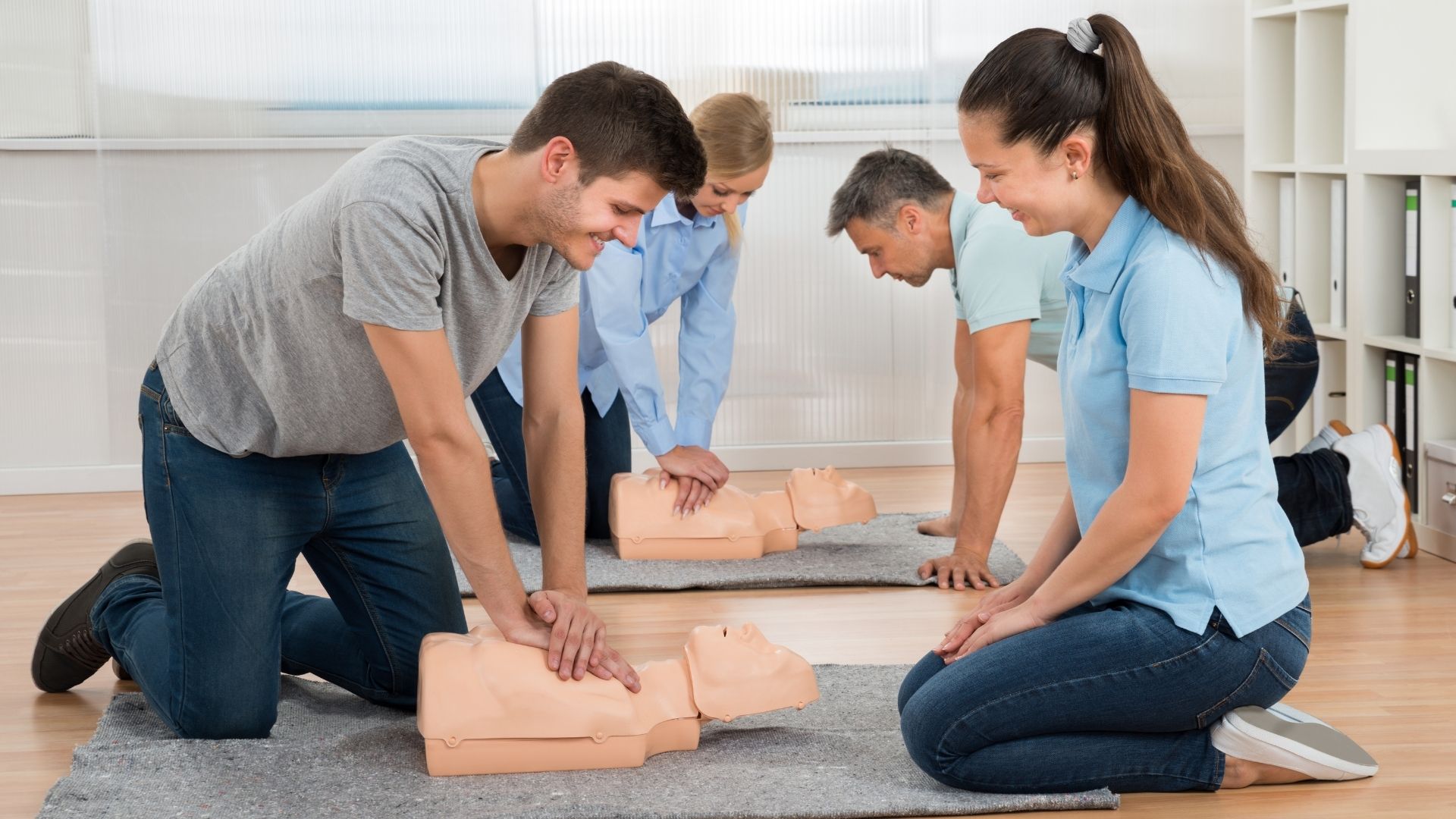 Let's take a look at why having a Healthcare Provider CPR Certification is important. The American Heart Association finds that each year, approximately 350,000 cardiac arrest reports occur outside of the hospital. Unfortunately, AHA notes only 46% of those cases get the immediate help that saves their lives.
Aiming to reduce fatal cases, CPR certification providers constantly update the techniques. This information is especially relevant for healthcare providers who must always be up-to-date with the latest instructions.
In this article, we will go through the types of CPR certification that healthcare providers need, as well as explain how the training and examination process looks. We will conclude the article by explaining what each part of the certification process entails.
Level of Healthcare Provider CPR Certification
CPR courses come in various levels in order to accommodate the needs of different individuals and teach them how to offer first aid. Therefore, they vary from basic to very advanced.
As healthcare providers operate in prehospital and in-facility environments, they must be advanced in their skills and knowledge. Therefore, the training for healthcare providers is called BLS or Basic Life Support. Read more below about what this course covers and the skills the candidates gain.
What Is BLS CPR Level for Healthcare Providers?
BLS stands for Basic Life Support, and it is a Healthcare Provider CPR certification level specifically designed for medical staff like doctors, nurses, paramedics, and other healthcare providers. However, this course is also extended to firefighters and police staff.
Any individual that takes this course will gain basic CPR skills and learn some advanced medical solutions for patients in need.
Essentially, the BLS course is divided into CPR sections where candidates will have to learn how to successfully execute CPR for all ages, including babies and children. A guide on using an AED is also included.
AED is short for automated external defibrillator, which means the candidates will have to learn the basics of AED, and how they apply to the human body. Using AED along with CPR can elevate the survival chances of victims, as shown in this study.
In addition to the acquisition of technical skills, the curriculum of this CPR course involves mastering critical thinking, teamwork, clinical decision-making skills, and briefing. These are all the skills any healthcare provider must acquire before facing a stressful situation where a second could be fatal and determinant for a patient's life.
By the end of the CPR course, the candidates should be confident in offering CPR and support it with AED to revive the patient's heart and achieve a regular rhythm. Additionally, they will have learned how to relieve airway obstructions in patients regardless of age.
How To Get a Healthcare Provider CPR Certification
All healthcare workers must have CPR certification for adults, children, and babies to get employed and assist in hospitals. To do so, they must visit their closest Red Cross Organization or other organizations that offer CPR certifications. The American Heart Association also has comprehensive CPR courses, including BLS, which is comprised according to the AHA guidelines.
How the Healthcare Provider CPR Certification Looks
The CPR training for healthcare providers is divided into theoretical and practical, and the final component of the training is seeing the candidate's skills in practice, or formal examination. Below, we elaborate more on what to expect:
Over the theoretical courses, the tutors will familiarize everyone with:
What leads to cardiac arrest
What is an automated external defibrillator
When is the right time to use it in practice, etc.
This is the easiest part, but also the foundation of a Healthcare Provider CPR Certification. For that reason, everyone must pay close attention to the details and information shared because they help better placement and take actions more confidently later in practice.
The Practical CPR Training for Healthcare Providers
After the theoretical classes, healthcare providers advance to the practical component of the training. As the name suggests, during this part, the tutor will show the candidates how to perform CPR on a person using a manikin.
They will explain the process step by step. However, it is important to remember that, in real life, everything will happen super fast. For that reason, paying attention during the practical part is vital for gaining the required skills to effectively assist a person in trouble in a real-life situation.
What is very helpful during this exercise is that the tutor will correct any irregularity the candidates do during this exercise. With regular practice and taking extra few tries on their own, the candidates will overcome their fear and insecurities. That's why a Healthcare Provider CPR Certification is important.
Examination as the Final Component
Completing the theoretical and practical part of the CPR training takes you to the final step before the CPR certification, which is the examination day. During this process, the person must take the written examination before they show their skills in practice.
The CPR test typically contains multiple-choice questions that cover the theoretical part of the course and some vital information regarding the exercises. It is not difficult if you've been practicing, but it still requires proper preparation.
Tutors suggest reviewing the material with a friend, watching online videos by certified doctors, and practicing the drill on a regular doll or anything resembling a chest.
Healthcare Provider CPR Certification: Expiry Dates
The CPR certificate for healthcare providers in clinics has an expiration date, and healthcare providers will have to renew it once in a while. Here are the expiration dates:
Basic Life Support (BLS) Course: Expires in 1 year
As life-saving techniques change over the years, especially with the rise of technology, there are constantly additional skills to learn that may significantly elevate survival chances. By renewing their certifications, healthcare providers will always be up to date with the latest findings and methods in CPR. However, it is important that every candidate finds a reliable course, not just a valid certificate.
Healthcare Provider CPR Certification: Concluding Words
The study findings from the AHA that we mentioned earlier are the driving factors for the rise in CPR-certified individuals. Anyone that wishes to learn the proper CPR procedure is welcome to sign up for a course.
There are several levels of CPR certification – adults only, children and infants, all-inclusive, BLS, and more. Healthcare providers are required to earn a certificate in BLS (basic life support) to be able to practice in out-of-hospital and in-facility settings.
Over that course, every candidate will familiarize themselves with the practice of CPR and how the procedure may differ for all age demographics. Besides the technical skills, healthcare providers will improve their critical thinking and decision-making skills to prepare themselves for the stressful situations that await them.
The CPR classes for healthcare providers are divided into a theoretical and practical component, which both cover the basics of CPR for adults, infants, or children older than 2 years.
After taking the classes, the final component before getting the certification is the examination. The written exam will test the candidate's general knowledge of the drill, but the candidate will have to show their skills on a doll to prove they are ready.